Objectives of a Price Management System
Quick identification of products that require price interventions
Identify and define the decision – making context
Decision support to immediately compare with old prices in terms of discount, margin impact, etc.
Save decisions and context, including an expiring date for the new price (or the recommended date to review the impact of the price change on trading & inventory results)
Immediate integration of new pricing decisions

both in the analysis system, to avoid redundant analysis ,
as well as transfer the new prices in the systems that will apply or enforce  the new prices
(like ERP/ SFA/ e-commerce/ market places/ etc.)

Check on defined intervals (or whenever necessary) the price change impact in the relevant performance indicators (quantitative and value sales, margin, inventory and inventory days, etc.)
QQpricing Operational Flow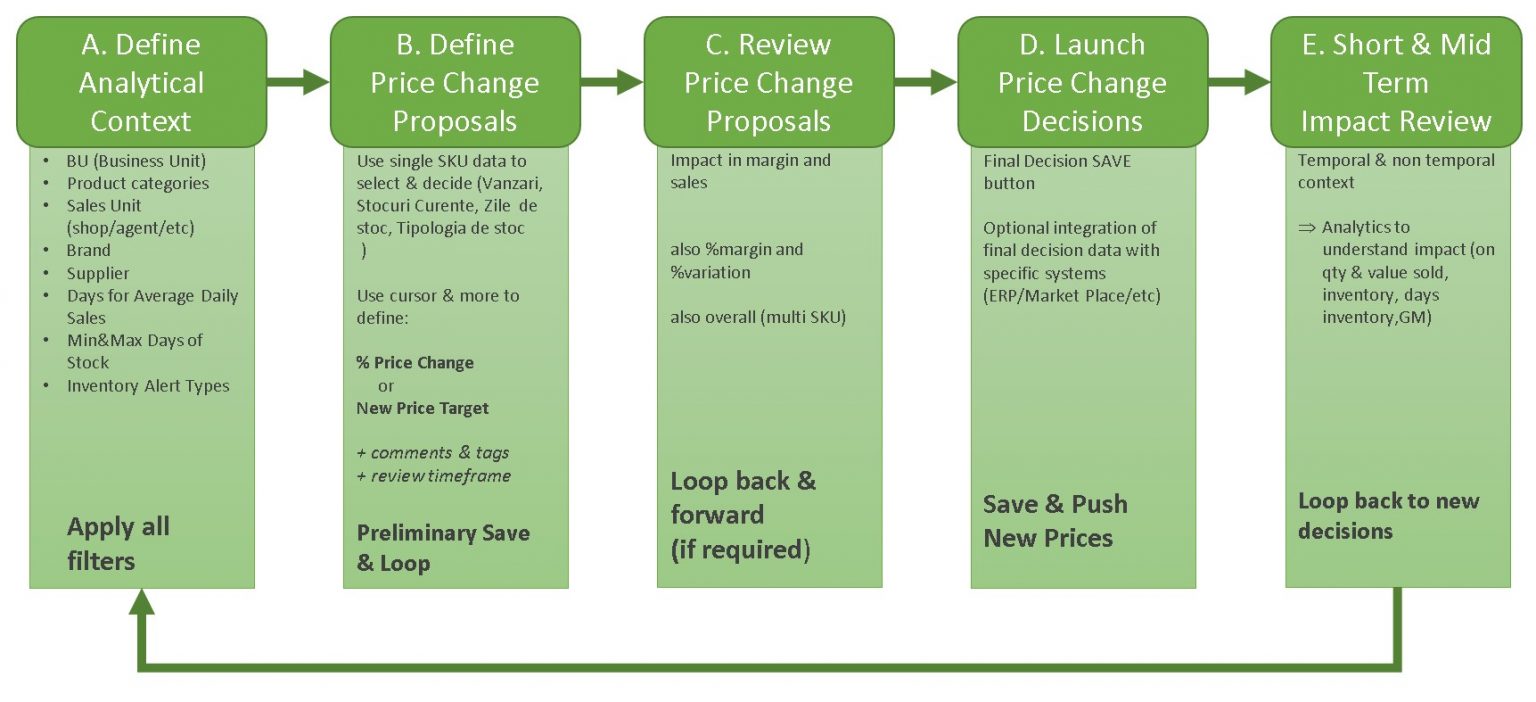 Dynamic Price Change Interface
Stage A above includes 3 steps to be executed in the interface:
1. Choosing the context of QQpricing decision to be make

2. Transfer the context to the table with preliminary details per product

3. Selection of products for which a similar price correction is desired (percentage change, new price or price change)
Stage B includes other 2 steps in the QQpricing interface:
4. Defining the price change for the selected products
You can choose from several approaches: 
percentage change
new price
or price change (coming soon)
5. Immediate impact analysis in price and profitability for each product.
To be noticed that the price change automatically rounds to the next value by .99 to decimals.
(If required)
In Stage C, action 6  saves the current price decision in a temporary area, next to other SKUs price change proposals, with dedicated comments and classifications required for a better understanding of that price decision in both in the final approval moment of these price changes and in the future.
In Stage D the next 2 steps take place:
7. Analysis of prepared price change sets, before they are launched (if necessary, you can go back to the previous steps and redefine the desired price changes).
8. The button of sending the final decision of the price changes triggers the saving of all parameters (both the starting context and the decisions, plus comments, explanations, classifications and validity/ revision term of each price change).
Simultaneously, the new prices are sent to all destination systems: ERP/ SFA/ MarketPlace(s)/ etc., being ready in the formats specific to each such destination system.
In addition, depending on the desired level of integration, the system can also take on the task of automatically loading new prices into the target systems.
This last step can be also assigned ONLY  to certain decision makers as an approval mechanism.
Interface for Reviewing the Subsequent Impact of Price Changes
Following the implementation of price changes, most likely on the date on which the review of the impact of the price change on performance indicators was defined, the effects of price changes can be filtered and analyzed, and from here you can move on to a new cycle of price change, where and when necessary. 
Further insights can also be extracted when analyzing multiple price changes for the same SKU over time or even price changes for multiple SKUs.
If desired, the decision to return to the old prices can be automated, without requiring human intervention to return to the prices before the price change.
The QQpricing engine shown can be extended in various directions:
analytics of price elasticity of demand
management and analysis of the history of price promotions
extend the definition engine for other promotions, including bundle promotions
etc
If you want the QQpricing product, or you want to know more details, please fill in the order form here !
For other QQinfo solutions, please visit this page QQsolutions.