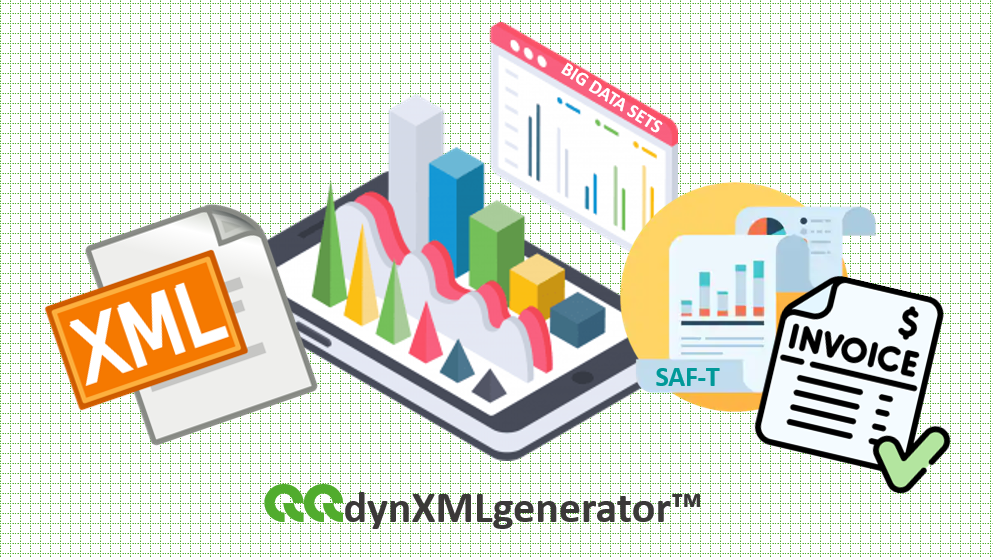 Transforming and delivering data sets in XML format can be a major challenge, in particular
if we talk about big data sets,
if we must integrate data from multiple data sources, including heterogeneous technology,
if we want a solution that allows rapid subsequent changes, using selections of options and not rewriting processing code.
Immediate applicability:
export in SAF-T format
generating XMLs that automatically create invoices.
Below is more information about QQdynXMLgenerator™, as follows:
fast & efficient (processing all the XML leveled structures that require same table source & same granularity within a single step, not each XML structure separately;
reconfigurable in a heart-bit from a 2 pages config table (now is XLS, but can be easily commuted to SQL/ QVD/ etc.);
able to combine various data sources (each flattened within a single XML);
able to provide some

Qlik™

– formulas processing directly;
can be combined with

SIRQ™

(also configurable through 1 or 2 tables) for more complex processing;
can read directly from heterogenous sources (SQL/ QVD/ RESIDENT/ XLS/ XLSX/ CSV/ TXT);
working both with

QlikVie

w™

&

Qlik Sense™

;
known limitation: each XML super-row should not exceed 65k characters.
See bellow a simple diagram explaining the basics
The following more detailed diagram explains a little deeper (dark green is Qlik™):
In case more complex ETL or ELT is required, SIRQ™ by QQinfo running on Qlik™, or even direct Qlik™ preprocessing can step in, as shown below:
For information about Qlik™, please visit this site: qlik.com.
For specific and specialized solutions from QQinfo, please visit this page: QQsolutions.
In order to be in touch with the latest news in the field, unique solutions explained, but also with our personal perspectives regarding the world of management, data and analytics, we recommend the QQblog !