Q&Q Info Consult (on short QQinfo), the business software solution provider and integrator that refreshes the market with a user-friendly approach, by using especially the Qlik™ BI platforms, will participate at Internet & Mobile World 2015. 
The event will take place on the 7th and 8th of October at Central Hall of Romexpo. Here, at booth M17, QQinfo expects all its clients and potential clients with its developed dedicated and generic QQsolutions for real-life issues, that are not usually covered within common ERP or other business solution software, such as:
QQbanking™

 – lightning fast multi-bank & multi-company integrative solution for reporting and analytics of all bank activity and status (of a company or group of companies).
QQcash-flow™ – powerful tool for bottom-up treasury forecasting. It is covering not only regular accounts payables and receivables, but also credits, deposits, cash collaterals, letters of guaranty, etc.

Also, considering the nowadays common payment delays to create a more realistic prediction. The additional optional payment optimization engine allows financial managers to deal instantly with large numbers of payments, through automatic, multi-level, prioritization.
QQeasy-dist™ – for covering downstream and upstream distribution channel integration with simple and versatile forms and flows that saves time for data consolidation.
QQwork-logger™ – allows employees and managers to keep track of their most important asset: their worktime in a simple, fast and easy to use fashion.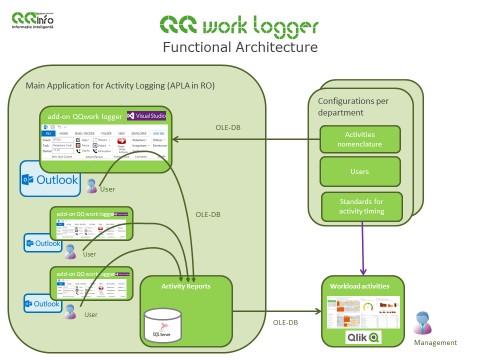 QQworkload™ – using information either from

QQwork-logger™

or any other time tracking solution, is providing not only valuable information regarding effort and efficiency, over and under-load, interruptions and reworks, plus lots of other various insights, including effort and profitability of personnel activities by customer or other business dimension, but also a good understanding of the actual data quality of time tracking reports used as a data source.
QQpromo™ – online tool for managing the full process of preparing, approving, executing and monitoring multi-channel trade promotions.
QQcrm™ – complex analytics are used to trigger customer-oriented interaction, modeling afterwards a complete support for fast planning, preparation, reporting and follow-up of client interactions, plus a wide range of monitoring, alerting and analytics of the whole process.
QQvendor-reporting™ – an innovative, easy to use and relevant tool that allows multi-brand whole sellers to have an efficient, automated and controlled process of regular reporting to their vendors.
… and many more news and offers. See you at IM World2015 at booth M17!
Sempre fi,
QQteam