Collaborative Notes in

Qlik Sense SaaS™

– a new feature brought to you by

Qlik™

in June 2021!
With

Collaborative Notes

add a human perspective to facilitate decision making!
What do Collaborative Notes offer?
statistics and analysis in context
ability to take snapshots and add text comments
ability to tag and invite other users to the discussion
ability to create a flow from note to analysis and back again
ability to collaborate with multiple users in real time
ability to communicate offline
possibility to organize notes with collections
Here are some situations where Collaborative Notes can be used:
1. Tracking personal information where a user performs their own analysis and keeps notes of their findings in their own personal space, possibly to capture a point of interest or even to recall and track them. Users can tag and invite others to chat, creating a collaborative space for both real-time and offline communication.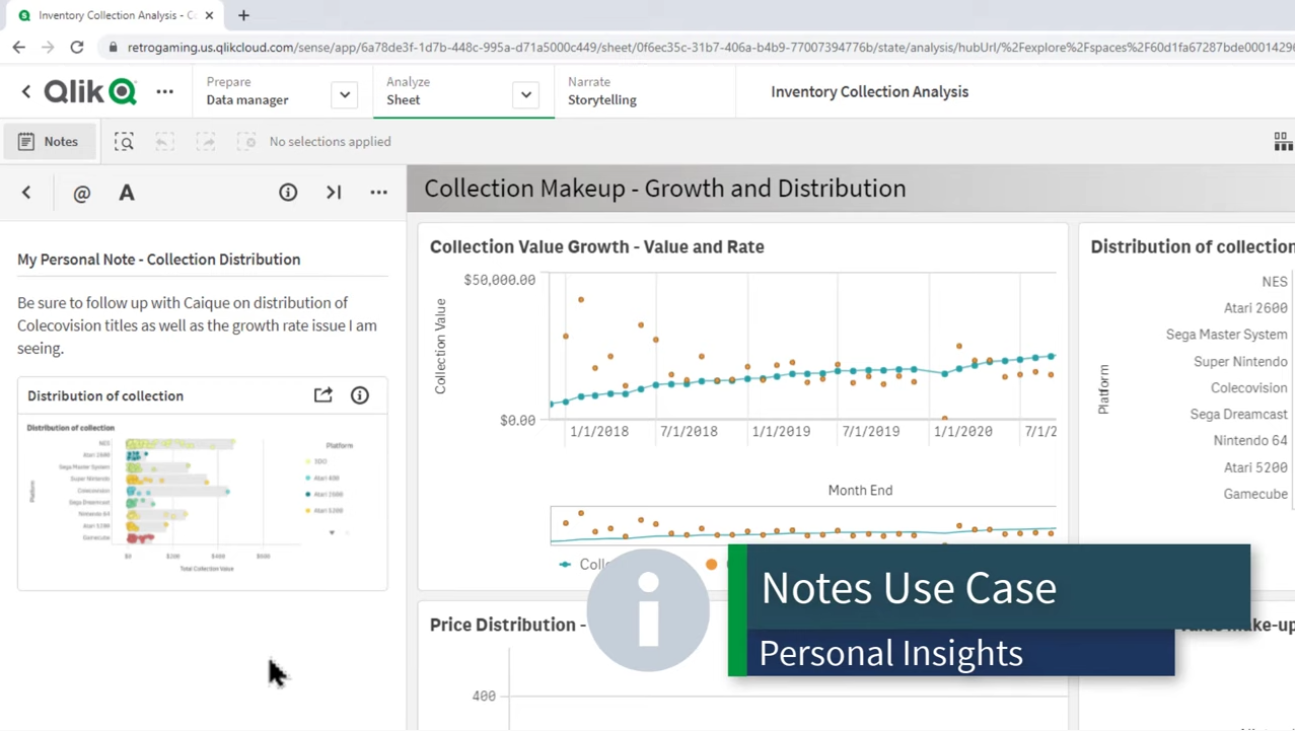 2. KPI monitoring. For example, if team members can collaborate, capture their ideas collectively, create this discussion, engage others and work together to produce the desired results.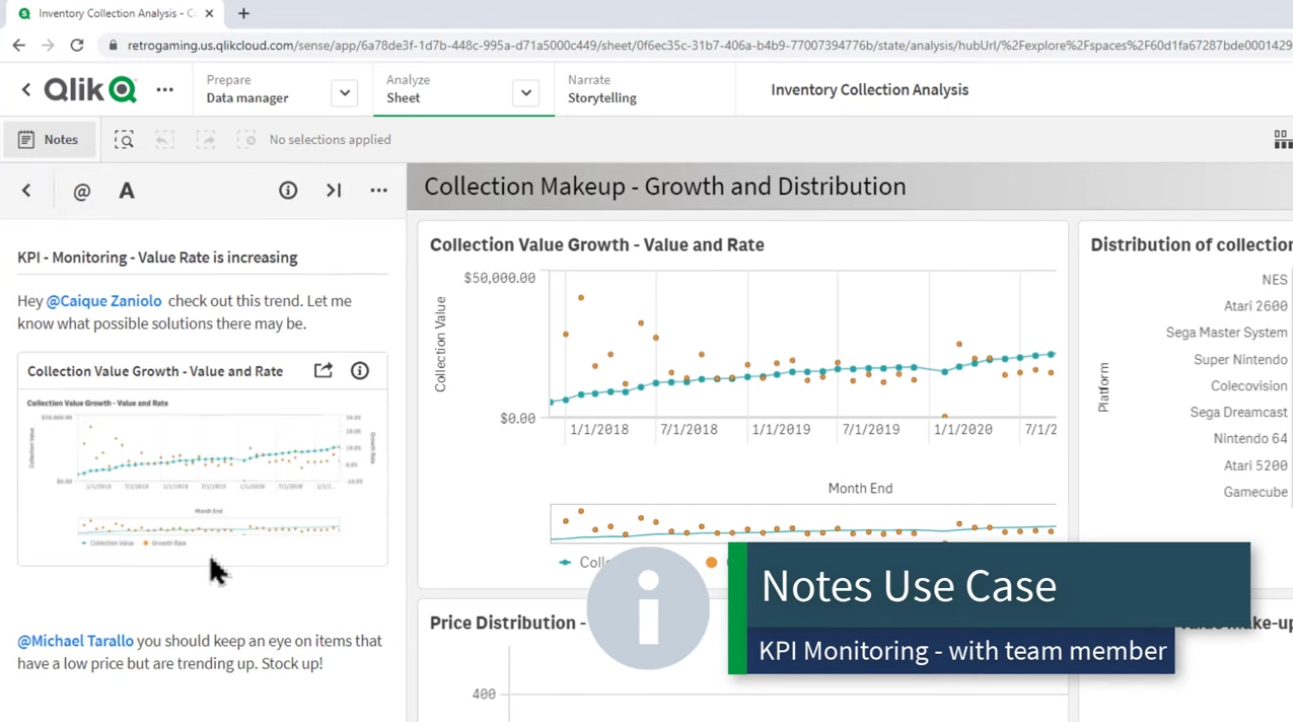 3. Informative. Where a note can guide users with explanations of the values and information presented and even answer frequently asked questions.
We will now give you details about the second situation in which you can use Collaborative Notes, i.e. the possibility to monitor some KPIs and gather team members to collaborate together.
In this particular view, we are struck, for example, by the fact that there is significant value in a particular category compared to others, but also fewer products. So, we have some high value products in the special category and we want to bring in another team member to take a look at this view. So we go to the notes section at the top, choose the space we're part of, and we can create a personal note that only we will see, we'll choose Personal.
In this case, this is where we collaborate with other members who are part of the space, so we choose that space and then create a new note, give that note a title and then we can start entering our note.
At the same time we can right click on Visualization and select Add snapshot to note, and at this point, what it will do, is put a point in time view of that visualization directly into that note.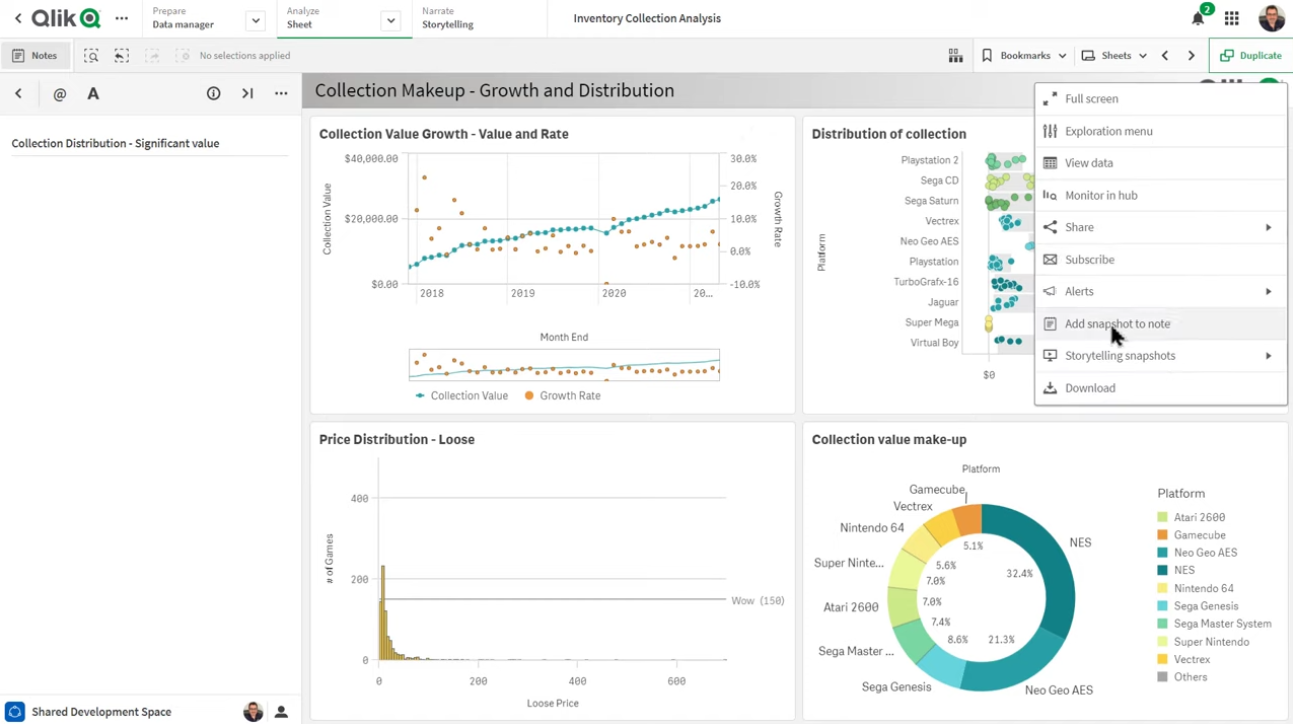 We can also insert a text or a comment and at the same time insert a label or a mention.
We can do that here or we can just type the @ symbol and then select the user we want to collaborate with and we can see that they are part of the space where there are no other members.
In this case, the selected user can see this note, but we want this user to be able to provide additional information and collaborate with us, so we'll go to Modify access and then select Can edit to grant the selected person access to this particular note.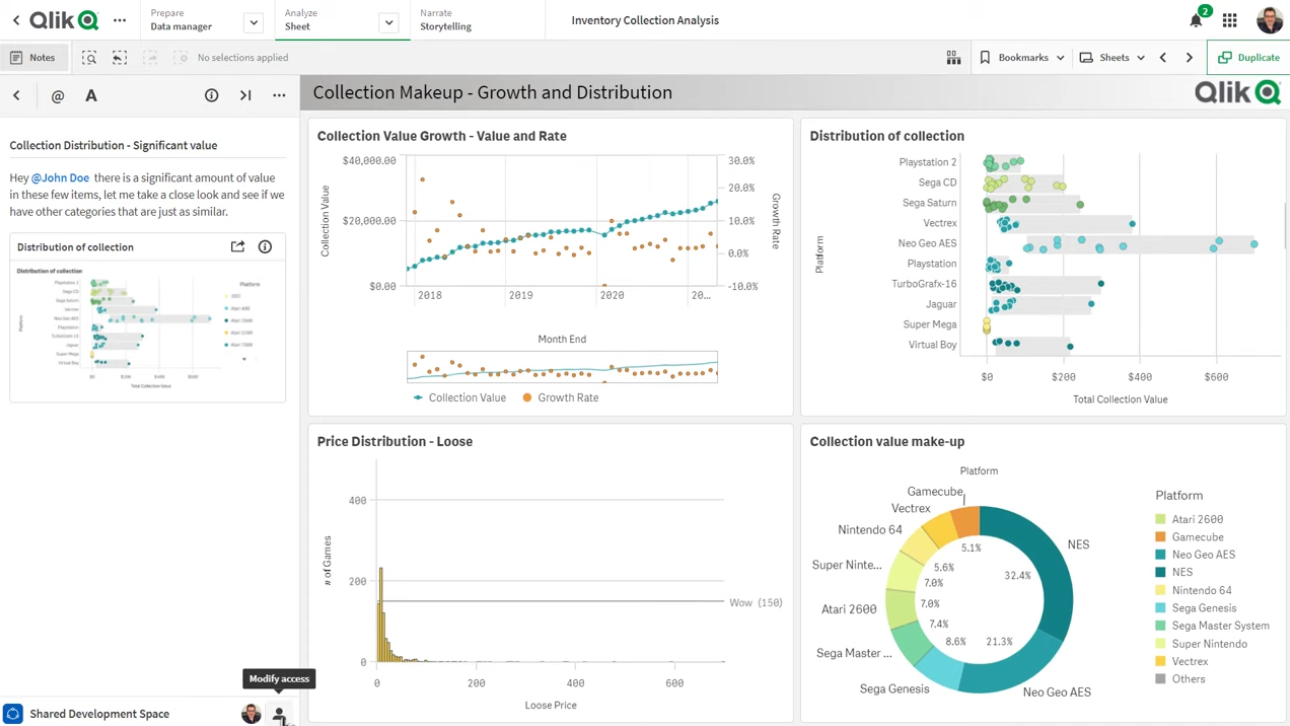 We can now see that the selected user also has access to this space, has been notified and this notification can be received via web or email.
In the space for that user, they can select any of these notes, or from the notification they can click on it and it will take them directly to that note where they can also start collaborating.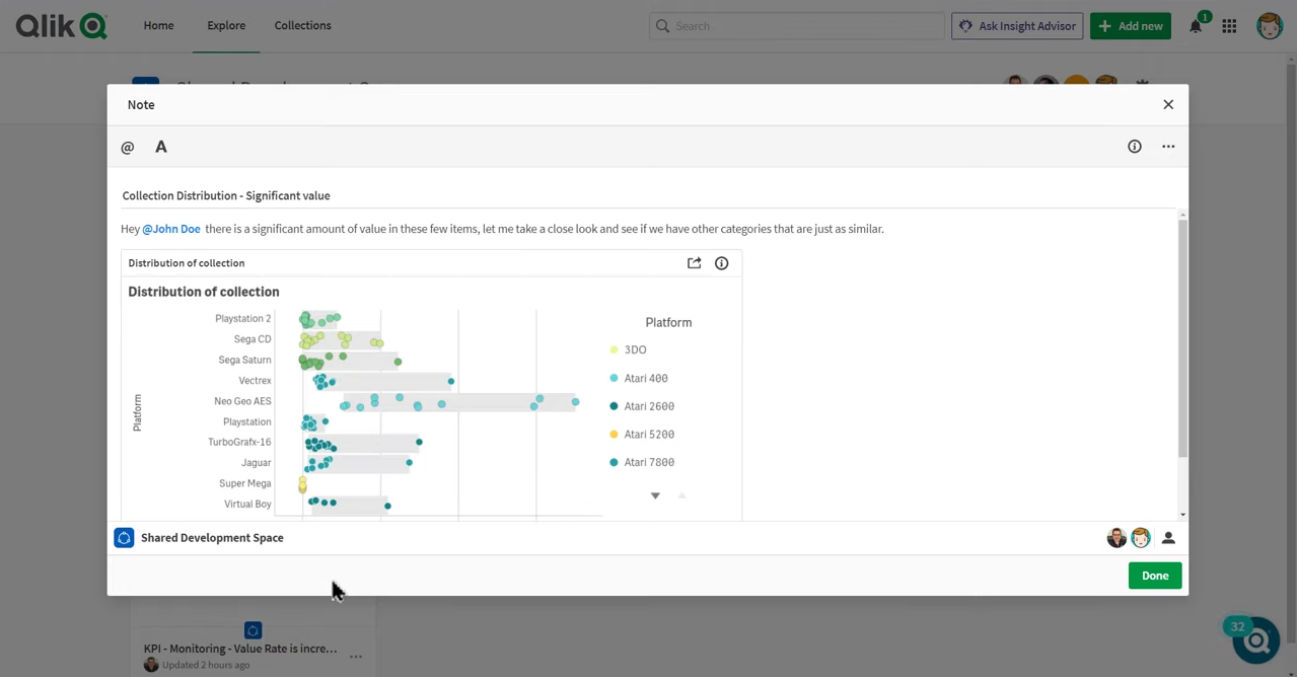 So now we can see the instant note and comment entered by us, and at this point the selected user can tag us if they wish and start entering their additional collaboration in real time.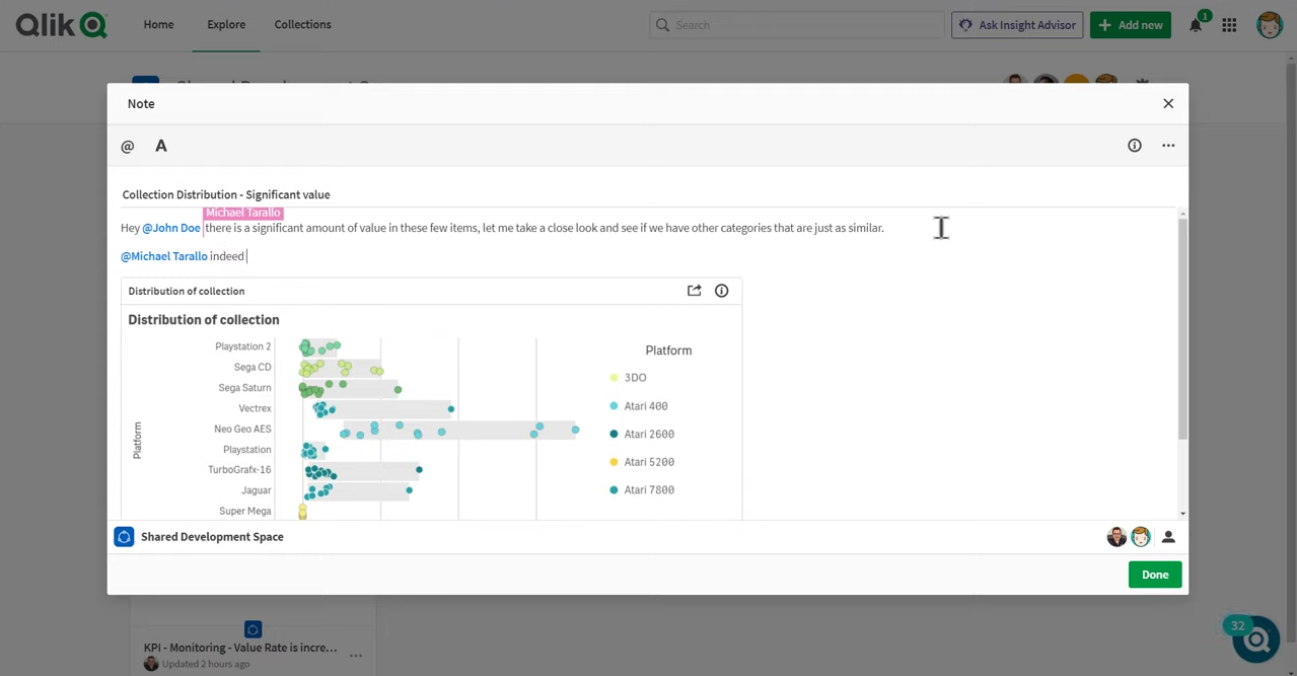 You can split the screen in two, and you will notice that as you enter additional information in real time, on one side you are logged in as the selected user, and on the other side you are logged in as yourself.
You can see that users can not only collaborate offline, but also collaborate online in real time.
For a short demonstration of Collaborative Notes, you can watch the video below:
For information about Qlik™, please visit this site: qlik.com.
For specific and specialized solutions from QQinfo, please visit this page: QQsolutions.
In order to be in touch with the latest news in the field, unique solutions explained, but also with our personal perspectives regarding the world of management, data and analytics, we recommend the QQblog !