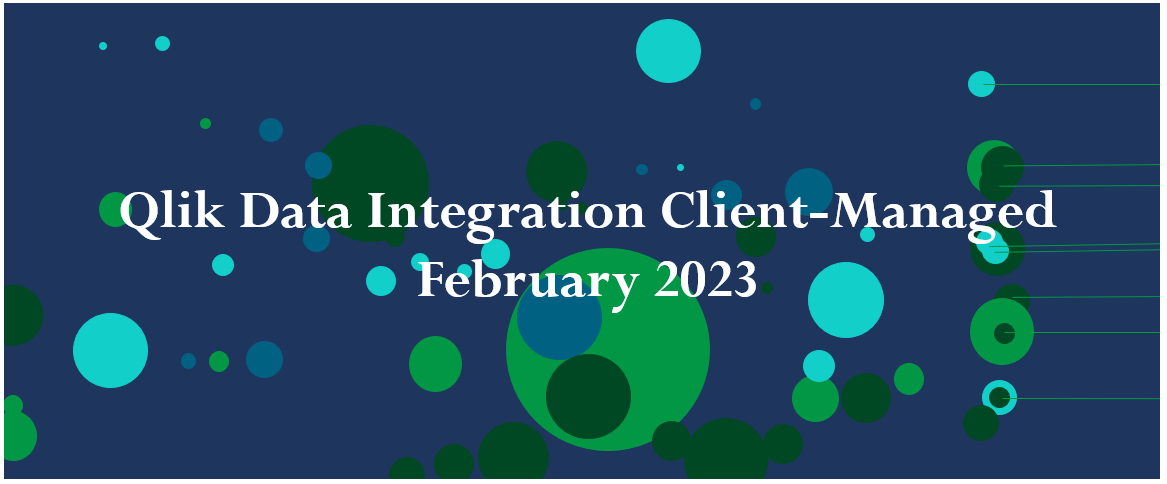 February is traditionally the month to show you care about somebody you love, and this month Qlik™ continues to give some love to Qlik™ Data Integration Client-Managed portfolio with a round of several releases, mainly through our regular scheduled Service Releases.
As a reminder for Qlik™ client-managed portfolio, Qlik™ currently has an annual release cadence of two main GA releases, and generally two Service Releases, and in between patches can be released on an as-needed basis. Here is a round-up of some of the highlights of what's new.
Qlik Replicate November 2022 Service Release 1
In this release of Qlik™ Replicate, some improvements and enhancements have been made around source and target endpoints.
Support 4-byte Replication into Cloud targets from Oracle source
Qlik™ has removed a previous limitation by adding support for replicating data with 4-byte emoji characters, from an Oracle source into various cloud targets:
Snowflake

Databricks

Azure Synapse

Google Big Query

 
Databricks as a Target
Continuing the strong working partnership between Qlik™ and Databricks, support for Databricks (Cloud Storage) and Databricks Lakehouse (Delta) 11.3 LTS has been added. 
Qlik™ Compose May 2022 Service Release 2  
Databricks Unity Catalog integration
Until now Qlik™ Compose did not integrate with Databricks' Unity Catalog. With this release, you can define and configure a Unity Catalog as the target for Qlik™ Compose tasks. Qlik™ Compose users can utilize a three-part naming convention to register generated Delta tables and Live views. Qlik™ users then get the benefits of the Unity Catalog, such as role-based access control, lineage, and more, as they consume the registered data.
Engineers using Qlik™ Replicate to write non-Delta formats would require the hive_metastore catalog as a target. Qlik™ Compose reads metadata and data from the hive_metastore catalog and then creates and processes data to delta tables in the target Unity Catalog. Qlik™ Compose users can streamline this multi-step process once Unity Catalog supports partitioned external tables in non-Delta formats. 
Performance and cost improvement
Before, Qlik™ Compose did not skip the subsequent SQL execution steps that used a table with no rows loaded into it as part of data movement or transformation. Now, with this release, Qlik™ Compose culls groups of hundreds of SQL execution steps when not required, based on run time metadata. This helps to reduce execution time and further improves the suitability for low-latency use cases. This capability is available in both Snowflake and Microsoft Synapse.  
Enhanced security and governance
In the past, Qlik™ Compose Synapse projects created all dimension and fact tables within a single schema as part of the data mart configuration, with dependent views created in different schemas. With this release, you can configure physical data mart tables in different schemas with Qlik™ Compose – you can have the finance data mart in the finance schema, the revenue data mart in the revenue schema, and so on.
This fine-grained control will allow the data warehouse administrators to separate the different artifacts, leading to higher security. Also, administrators can provide user permissions at the schema level rather than an at an individual table or view level, simplifying administration.
This capability was previously available for Snowflake and Microsoft SQL Server and is now available for Microsoft Synapse.  
Command Line interface improvements
Based on customer feedback, Qlik™ has improved how Qlik™ Compose users can update custom-SQL within pre-load, intermediate and post-load steps for data warehouse and data mart automation. With this release, you can now review these steps using the command line interface instead of relying on the user interface, which customers reported was not as time efficient as it could be. Custom-SQL can be written in files to update multiple development and CI/ CD environments helping to reduce time to production.
Qlik™ Catalog February 2023 Client-Managed  
Schedule load jobs via properties – This release for Qlik™ Catalog builds upon the data load scheduling capability that was introduced in the November 2022 release.  Users can now define these schedules via properties in the source connector object.  
Modify publish job datasets – Previously, once a dataset was defined during the publishing job creation process, it could not be changed.  The user now has the ability to subsequently modify the dataset.   
Expanded support for PowerBI – Qlik™ Catalog already supports the publishing of data to Microsoft PowerBI Pro and Premium.  In this release, we have added support for Microsoft GCC (Government Community Cloud).    
To learn more, please visit the Downloads and Release Notes section on Qlik™ Community.
Release notes are available here.
To obtain any of these releases, go to Qlik Downloads in the community and filter "Category" by "Qlik Data Integration", and then select the product and the versions you would like to download.
Note: For most products, selecting "Latest release and patch" under the "Release Assets" by should be enough.
If required you can filter further by selecting the latest Service Release (SR) version under "Release Number". For additional help in using the downloads site – watch this handy video guide here: How-to-download-Qlik-Products.
For information about Qlik™, please visit this site: qlik.com.
For specific and specialized solutions from QQinfo, please visit this page: QQsolutions.
In order to be in touch with the latest news in the field, unique solutions explained, but also with our personal perspectives regarding the world of management, data and analytics, we recommend the QQblog !